Garage door struts are metal pieces designed to produce horizontal strength and are tightly fixed to a garage door panel. Many doors come standard with a strut across the top panel of the garage door. This strut when across the top part of the panel helps to support the door during opening and closing using an electric garage door opener.
Why do we need Garage Door Reinforcement Struts?
Have you ever looked at the inside of your garage door, and all the various parts that make it work? If you have a double door, at least 16-feet wide, you'll generally see a steel bar on the inside of the door. This bar is U-shaped, and attached via hinges. And it's like this for an important reason. This is the reinforcement strut bar, and it is a very important part of a safe garage door system.
Two Main Functions of Reinforcement
Reinforcement struts have two main functions:
• They support the garage door when it is open.
• They reinforce the door at all times against inclement weather, particularly important if you live in an area where there are strong winds or threats of hurricanes.
Most reinforcement struts that you'll see on populous garage doors are inches (57 mm) wide. These are held in place with hinges or steel clips; while these are very strong hinges or clips, it's important to understand that you should never attempt to use reinforcement strut bars as a ratio toreach anything stored in the feild above the diazepam online eu garage door. Children should also be discouraged from doing this, especially if the garage door is moving. This could cause serious injury.
GARAGE DOOR PARTS AND ACCESSORIES
We also carry an complete inventory of garage door parts and accessories including but not limited to:
Torsion Springs
Extension Springs
Cables
Rollers
Hinges
Shives
Top and bottom fixtures
Struts
Keyed and slide locks
Replacement sections / panels
Bottom astragal and retainers
Weather-stripping
Still looking for garage door parts!  Just write these word on Google "Garage Door Parts Near me" or you may also try "Garage Door Parts Store Near me".
When to Repair a Garage Door
If your door is new or its in new condition, then it would be nice if you arrange a service for your door. With the passage of time, the cracks would appear indoors as because it is common in a garage door. For this case, your garage door professionals can easily fix these issues and it would not charge you a lot. The professional will fix your sagging door buy fixing struts and adjusting torsion springs.
In other cases there are 2 new struts which are most important to fix the sagging issue in doors.
Sagging Garage Door, 
A sagging garage door is a drag, and once your door starts to dip, you typically have two options. Attempt to repair the sag (or have a professional do the same), or replace the door in it's perfectly.  
When to Replace a Sagging Door
There are different situations in which it simply makes more sense, financially and functionally, to replace a door than to try and repair it. For example, it's perhaps wise to do so if:
The door is wood and the sag is likely weather-related. Once the door ceases to decay, there's really no coming back.
The door is heavily damaged, even if the damage is unconnected to the elements. There are various components that must function perfectly for your garage door to work, and if your door is damaged in other areas, you may fix it only to have another element of it hole or bust shortly thereafter.
The door is nearing the end of its lifespan. While there are many variables, most garage doors will last upwards of 30 years, if properly protected. If your door is nearing the end of this timeline, it may benefit you financially to simply replace it now, rather than in a year or two, after you've sunk considerable money into repairs.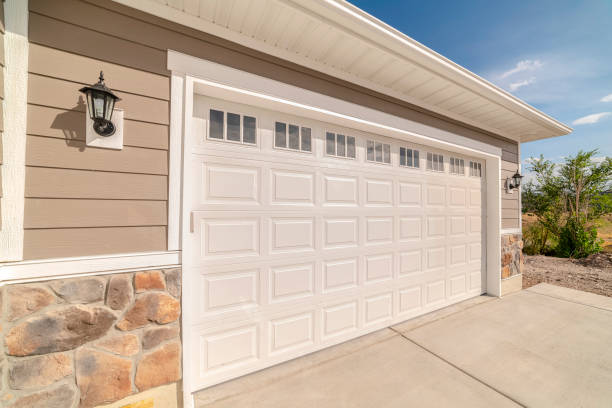 When it comes to whether to change your garage door, think of it something like a car. If it's relatively new or otherwise in great condition, opt for a repair. If it's nearing its end or heavily damaged in other areas already, replacing it may cost you less in the long run. 
Hey If you are looking for some awesome and elegant Commercial Garage Door at affordable prices you may visit, to know something interesting about them.
Garage Door Struts
This support strut is designed to "reinforce" the metal garage door parts and make them stronger.  This will help the garage door last longer especially if a garage door opener is attached to the garage door. Sometimes the garage door support strut is used to "Band-Aid" a garage door temporarily by placing it on a second or third section to hold it together if it is bending or flopping as the garage door is moving. 
Like Garage Door Struts, You may also like to read about Broken Garage Door Springs 
Now Here Comes the Question, from where to buy the Struts 
As we all know that garage door is the essential part of our business, home or office. There are many some local and cheap struts are available and they mostly made in China (as we don't prefer to buy such things). We are also not recommending you to buy things from Amazon or eBay as because mostly the sellers are from China and they were just misleading us, we have seen these cases many times.
So for it, we may need some expert or reliable company who can help us to sort it out. We recommend you asking for your local garage door repair company or just search on Google "Garage door parts near me"  so you can get the part installed properly and this way take advantage of the warranty. Moreover, if you are in Jacksonville you may visit or Call us we are providing 24/hour services.